Pravidelné kurzy
Od septembra pravidelné kurzy na africké a brazílske perkusie s Igorom Holkom.
čítať ďalej

Classes
The beauty and the secret of African music is handed over by Igor Holka to his pupils at the regular classes in the Private artistic school TRALAŠKOLA in Nitra, where he works as a teacher of drum set play, percussion play and leads a drum orchestra.
The classes are intended for beginners or advanced players on different levels also without their own instruments.
Since 2004 has Igor Holka lectured the djembe play at one week workshops which are organised by MASADA BRNO. The classes are combined with African dance workshop, which has been lectured by Tereza Pospěchova (CZ) in last few years. The djembe play is also lectured by Broňa Pavlíček – the leader and a solo player of a band from Brno called TUBABU, (CZ) who has lectured the classes since its´ birth. These perfect musicians and teachers can be also seen at workshop organized by Tralaškola in Nitra.
This workshop lasts for one week. It is full of positive mood, African rhythms, dance and lovely people and at its end there is a joint performance of all participants, who are also the adoptive parents of Finda Dialo, a girl from Guinea.
The amount of people interested in these classes grows year after. You can get more information from the organizers.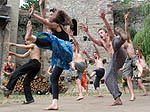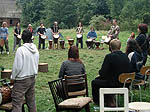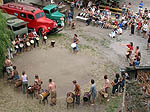 Ponuka Afrických nástrojov