Members
Igor Holka

Igor Holka – a graduate of The State Conservatory in Žilina and The Folk Conservatory in Bratislava in the field of jazz drums. He played the percussion in the Big Band of Conservatory in Žilina, than percussion and also drums in many different jazz bands. He also played as a studio player.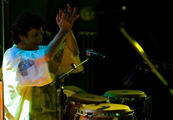 In 2005 he took part in a special workshop for playing the djebme and sabar in Senegal, which was conducted by masters of the percussion play. In 2007 he studied an afro-uruguayan carnival rhythm called Candombe and also visited Brazil (Porto Alegre) for the first time, where he took samba lessons. He visited Africa again in 2008, where he learnt from the masters of African percussion play. In years 2009 and 2010 he attended workshops "Batucada Masters" and "Samba Reggae Professionals" in Berlin led by Nilo Sérgio (diretor de bateria Portela, Rio de Janeiro) and Patinho Axe (ILĘ AIYĘ – Salvador da Bahia). In 2011 he participated in the project called "Tambores do Mundo" (drums of the world) in the drumming heart of Brazil, Salvador da Bahia, where he took part also in carnival. His educational stay was closed with the visit of Rio de Janeiro.
Igor Holka is the founder and the leader of Afro Campana, the first performer of the rhythms of West Africa in Slovakia. He is also the founder and the leader of the biggest and unique Slovakian drum orchestra Campana Batucada.
In his repertoire he´s got apart from a drum set also the Cuban percussion – congos, bongos and many other percussions from all over the world. He gives his experiences and knowledge to the others as a teacher of percussion play in Nitra and he is also the author of the schema accredited by The Ministry of education of the Slovak Republic for the education of ethno percussion play at the Slovakian primary artistic schools. He took part in many workshops in Slovakia and also abroad as a lector. In Nitra he leads a drum orchestra and provides regular classes of Brazilian samba and rhythms from West Africa. Nowadays he cooperates with The Andrej Bagar Theatre in Nitra on the interactive inscenation called "Skok z výšky" (High Dive) – an excellent one woman show of the great Slovakian actress Eva Pavlíková.
As well as in other music genres the rhythms of the African traditional music are built on the bass basis. Dundun, which is the lowest tuned bass drum, is the part of the main repertoire of Juraj Drobka, who decays its rhythms on the drum set.
Juraj Drobka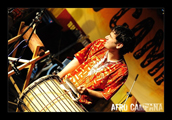 Juraj is a member of Afro Campana from its very formation. He devotes himself to music since early childhood and improves himself in its various areas. With the smile of a cover boy and an extraordinary talent he holds the base of the bass line in any song. Apart from dundun, he plays different percussions, balafon and he also sings.
Sangban is the drum which is medium-tuned and its rhythm is very close-knit with the rhythm of dunduns.

Thanks to many years of playing together a perfect coordination and a kind of sixth sense works also between Juraj and Katka, who is a permanent member of a band, too.
Katarína Szalayová

Apart from the African rhythms Katarína Szalayová devotes herself also to the congos and bongos. Apart from playing the bass drums (sangban, kenkeni) her role in Afro Campana is also to play the djembe (accompanying, solo) and different percussions, dance and sing, as well. Her charisma and positive mood became a huge asset for the band. Together with the other members of the band she takes part in many different workshops aimed at music and dance, which are lectured by foreign lectors.
The most highly tuned bass drum is called kenkeni, which fills up the trinity of the bass drums with its expressive and high-pitched sound.
Peter Kováč

In Afro Campana kenkeni is also played by its latest member Peter Kováč. In the field of his music interest, apart from kenkeni, sangban and percussions, there is also a drum set. He studies playing the drum set actively. He plays drums also in a project Afro Campana & Friends and a blues band called Freeman band.
One of the inherent musical instruments in every band playing traditional African rhythms is the accompanying djembe. Each song is composed from several basic accompaniments, which together with bass drums create a specific melodic rhythm of African songs.
Bibiána Timková

Bibiána Timková started to devote herself to the accompanying djembe at the courses, which are regularly accomplished at the private school of art Tralaškola in Nitra led by Igor Holka. She develops her playing skills at international workshops year after year. Apart from playing the djembe and different percussions, she also dances the African dances.
Special Guest: Ernesto Naishtat

Argentine Ernesto Naishtat is, as he calls himself, "the adopted son" of Afro Campana. He is an amazing musician and a person with a big heart. He studied percussions all over the world, several times also in Africa. In fact, apart from the technique of playing, singing or different rhythms, he taught us how to approach to the African music. Thanks to him as well as thanks to several African lecturers, who were brought to Slovakia by Ernesto, so we are able to pass it along to our audience in full deployment.

In African music a very special place belongs to a solo-djembe player. He defines, when the song starts, speeds-up or finishes. The whole band acts up to him. The "cherry on the cake" are the solo parts themselves which are actually free improvisations going above the whole song. They are different from each other, but they are connected with one thing: they are all born in heart. If something stands out it needs to have a strong basis. That is why the mutual coordination and a musical emotion in a band are very important.

Ponuka Afrických nástrojov