Pravidelné kurzy
Od septembra pravidelné kurzy na africké a brazílske perkusie s Igorom Holkom.
čítať ďalej
Odporúčame
Igor Holka

Igor Holka – a graduate of The State Conservatory in Žilina and The Folk Conservatory in Bratislava in the field of jazz drums. He played the percussion in the Big Band of Conservatory in Žilina, than percussion and also drums in many different jazz bands. He also played as a studio player.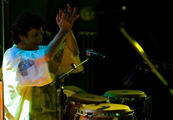 In 2005 he took part in a special workshop for playing the djebme and sabar in Senegal, which was conducted by masters of the percussion play. In 2007 he studied an afro-uruguayan carnival rhythm called Candombe and also visited Brazil (Porto Alegre) for the first time, where he took samba lessons. He visited Africa again in 2008, where he learnt from the masters of African percussion play. In years 2009 and 2010 he attended workshops "Batucada Masters" and "Samba Reggae Professionals" in Berlin led by Nilo Sérgio (diretor de bateria Portela, Rio de Janeiro) and Patinho Axe (ILĘ AIYĘ – Salvador da Bahia). In 2011 he participated in the project called "Tambores do Mundo" (drums of the world) in the drumming heart of Brazil, Salvador da Bahia, where he took part also in carnival. His educational stay was closed with the visit of Rio de Janeiro. Igor Holka is the founder and the leader of Afro Campana, the first performer of the rhythms of West Africa in Slovakia. He is also the founder and the leader of the biggest and unique Slovakian drum orchestra Campana Batucada.
In his repertoire he´s got apart from a drum set also the Cuban percussion – congos, bongos and many other percussions from all over the world. He gives his experiences and knowledge to the others as a teacher of percussion play in Nitra and he is also the author of the schema accredited by The Ministry of education of the Slovak Republic for the education of ethno percussion play at the Slovakian primary artistic schools. He took part in many workshops in Slovakia and also abroad as a lector. In Nitra he leads a drum orchestra and provides regular classes of Brazilian samba and rhythms from West Africa. Nowadays he cooperates with The Andrej Bagar Theatre in Nitra on the interactive inscenation called "Skok z výšky" (High Dive) – an excellent one woman show of the great Slovakian actress Eva Pavlíková.

Ponuka Afrických nástrojov